MAKING THE COMMITMENT TO FOLLOW THROUGH
In summary, we hope we have pointed out the fun, the adventure and the economic advantages of being an independent businessperson. We hope you will enjoy the experience of :
1. Feeling happy each morning as you open up and greet your first customer
2. Seeing the beauty of all the lovely merchandise in your inventory
3. Having the satisfaction of banking your sales dollars
4. Enjoying a better quality of life than your previous employment
5. Getting out and traveling to enjoy the Southwest and to purchase stock for your store
6. Having a high profile in your community
7. Taking pride in all you've accomplished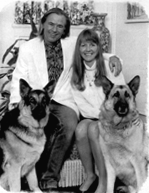 Now that you've read our book you must decide for yourself, "Do I want to be the owner of a Southwest trading post?" If the answer is "yes, start today! Don't let anything or anybody stand in your way. Good luck and God bless you on your journey.
Sincerely,
Dusty and Bonnie Henson

henson@ElPasoSaddleblanket.com