Dear Friends,
Thank you for taking your valuable time to read this manual. Although thousands of business books exist, the majority are overstuffed with information too boring, too technical and, worst of all, far too negative.
It's true that the road to success does involve risk, but we're here to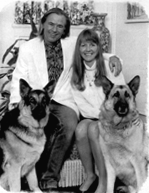 help you dodge the potholes. With our thirty-one years of experience, we hope to give you sound advice not just on your business venture, but your business adventure. No matter how bumpy the road gets, it's important that you enjoy the journey, wherever it leads.
Dusty and I have traveled six continents and devoted thirty-one years of effort into our merchandise trading. Early on, we learned how to "get rich working half days". It's a great business strategy...and it doesn't even seem to matter which 12 hours you work!
Throughout this manual we hope to get you thinking-planning-observing-doing and enjoying entire process. You're already on your way because you are reading and thinking.
Best of luck" to you.Sincerely,
Bonnie J. Henson

bonnie@ElPasoSaddleblanket.com
*Does "luck" play a part in success? When I asked this question of a rich old man, he smiled and replied, "You know, it seems to me, the harder I work, the luckier I get."BOOK INDEX